Mobile refrigeration and climate control applications occur across a huge range of industries, from buses and trains to off-highway construction vehicles and practically everything in-between. For a long time now Manuli Hydraulics has offered practical, high quality connector solutions for these applications. What started as a small, peripheral range of products has grown over the years, culminating in the creation of the Manuli Refrigeration & Cooling Unit.
Today we are able to offer not only a range of refrigeration and A/C connector products at least on a par with the very best of the competition, but also the benefit of our accumulated knowledge and expertise in the industry. Our dedicated team of refrigeration and A/C experts are ready and waiting to help our customers at every step of the process from conceptual system design to final product installation.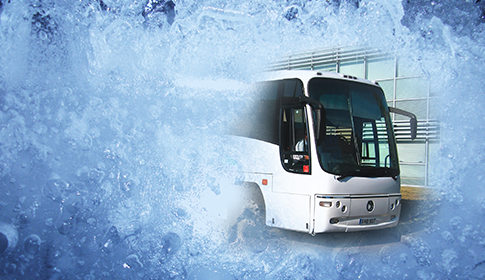 The Manuli Refrigeration and Cooling Unit is one of the few global suppliers of refrigeration hoses and fittings that design, test and manufacture our complete range in-house. With dedicated production plants in Poland and China, combined with our local OEM facilities, we have the power to supply whatever you need globally.
Our range of refrigeration products is particularly designed for use in the on- and off-highway air conditioning and mobile refrigeration sectors. We also support our comprehensive range of hoses and fittings with a bespoke manipulated tube service, which can produce unique or short-run batches made to order.
REFRIGERATION & COOLING

CONNECTORS
In the refrigeration and climate control industries applications vary widely, but the standards of quality required are uniformly high. The Manuli Refrigeration & Cooling product range offers a wide selection of the most commonly required refri fittings, coupled with a range of hoses designed to suit the most demanding of applications. In addition to our off-the-shelf range of products, we also offer a bespoke fitting design service, including made to order manipulated tubes in bopth large and small batch sizes.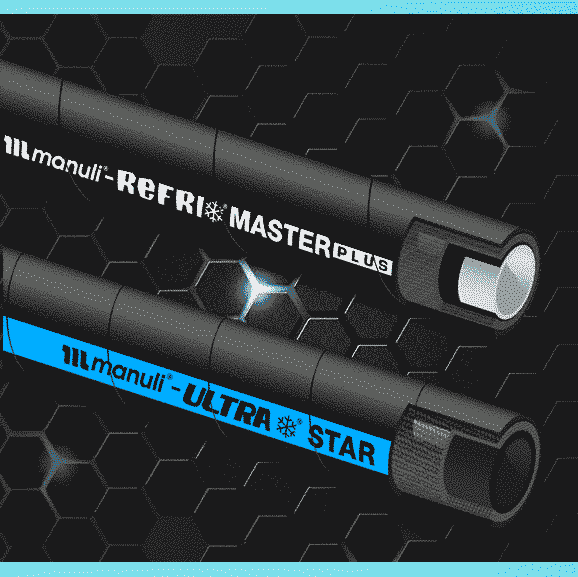 REFRIGERATION HOSES
Manuli Refrigeration & Cooling offers a range of refrigeration hoses which are some of the best and most versatile products on the market:
• RefriMaster Plus – Extremely low permeability rate with a reduced bending radius and improved resistance to kinking. Temperature resistance up to 140°C. Both crimped and field attachable fitting solutions available
• UltraStar – Type B hose with the permeability performance of a Type E hose. High mechanical strength, reduced bending radius and an extremely low permeation rate with the benefits of an all rubber hose. Both crimped and field attachable fitting solutions available
• RefriFast – Compact dimensions within Type A hoses, and outside diameter comparable with reduced barrier hoses. Low weight, easy installation in confined spaces. High flexibility and low bend radius. One-piece crimped solution available
FITTINGS
Manuli Refrigeration & Cooling offers a wide selection of both standard and custom made fitting termination ends for refrigeration and A/C applications.
The Manuli fittings range includes both crimped, reusable and field attachable solutions, making them equally suitable for either factory assembly or on-site maintenance use.

In addition, all parts and control methods are specifically designed to meet the relevant international regulations. Specific fitting options for both R134a and R1234yf refrigerants as well as those designed for both the high and low pressure side of the system are also available.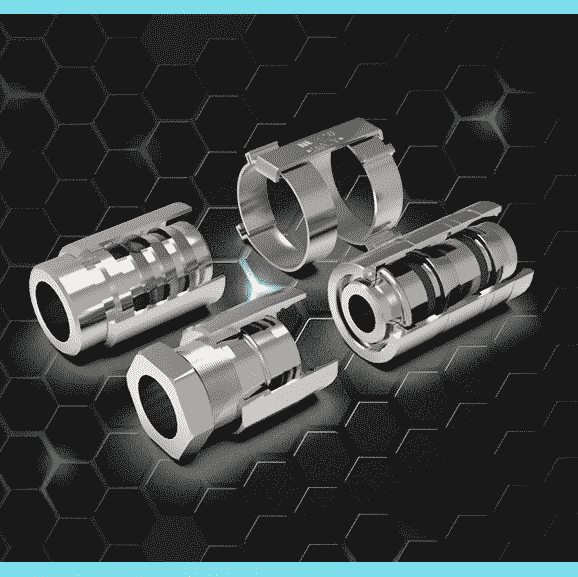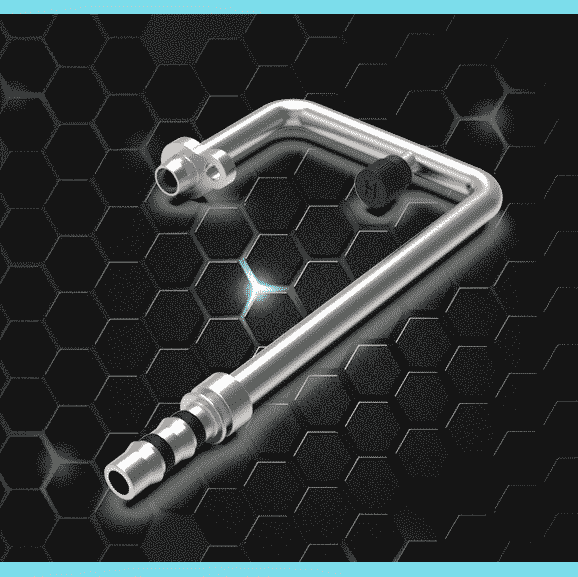 MANIPULATED TUBES

Custom made to your exact specifications, Manuli Refrigeration & Cooling also offers a bespoke manipulated tube manufacturing service.
Our production facility in Poland uses some of the most cutting edge automated tube bending equipment to quickly and accurately manufacture mild steel and zinc-plated parts to within strict tolerance limits. This allows us to easily achieve complex 3-dimensional designs with minimal setup cost, whatever your batch size and specification.
We also offer a dedicated design service where our in-house Applications Engineers will assess your system and suggest suitable solutions which we can then manufacture for you.

COOLING HOSES

Manuli Refrigeration & Cooling also offers a selection of hoses dedicated to cooling applications such as vehicle radiator systems and battery cooling in electric and hybrid vehicles.
• Coolservice/G – Designed for use with water and water-glycol solutions. An EPDM tube and grooved cover offers high thermal conductivity and an exceptionally low minimum bend radius. A broad working temperature range of -40°C to +125°C.

• Spirtex/HTG – A wide range of fluid compatibility, including oils and water-glycol solutions and a temperature range of -40°C to +135°C. Spirtex/HTG also has a grooved cover which allows a minimum bend radius of as little as 25% of the SAE J517 100R4 standard.

• T°Rex – Designed for continuous use at temperatures up to 160°C. Ideal for very high temperature applications such as gear-boxes in wind turbines and bus power-steering systems. Compatible with water-glycol and gear oils, T°Rex uses a VAMAC tube compound for exceptional aging resistance and reliability at extreme temperatures.